A new study links consumption of more sugary foods with a higher risk of death from heart disease.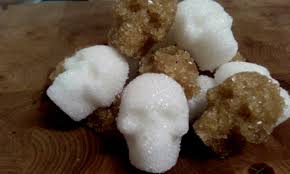 While other studies have looked at the link between added sugar and obesity, diabetes, heart disease and more, this recent research looked at death from heart disease. According to the Centers for Disease Control and Prevention, new research finds that people who eat too much added sugar are more likely to die from heart disease.
"We have emerging evidence to suggest that added sugar may play a role in multiple pathways in heart disease deaths," said study leader Quanhe Yang, a senior scientist at the federal Centers for Disease Control and Prevention. Eating too much sugar can contribute to Type 2 diabetes, which is associated with a higher heart disease risk, and it may increase the likelihood of hypertension and elevated cholesterol levels—both heart risk factors."
In order to avoid sugar, you need to read labels. If sugar is listed as one of the top three ingredients, then the the product has a lot of added sugar. In addition to table sugar, look for ingredients such as high-fructose corn syrup,dextrose,white granulated sugar,raw sugar, maltose,cane sugar, evaporated cane juice, honey, sucrose, maple syrup and molasses.
We all know that sugar is found in soft drinks, candy, cakes and baked goods, but sugar can also be found in unexpected places, including:
Ketchup   1 T = 3.7 g of sugar
Tomato sauce  1 C = 10 g of sugar
Apple sauce  1 C = 22 g of sugar
(One teaspoon of granulated sugar equals 4 grams of sugar.)
Try these helpful tips to avoid added sugar:
— Avoid sugary drinks. According to the study, soda, energy drinks and other sugar-sweetened beverages were the biggest sources of added sugar.
— Ditch low-fat foods. Manufacturers add a lot of sugar to compensate for the lack of flavor when fat is removed.
— Use natural sweeteners. If you must sweeten foods, try some shredded raw or dried apples, coconut, raisins, or dates. Use spices such as cinnamon. Or experiment with stevia, an herbal supplement that is now available as a sweetener.
I suffered with health issues that were related to the foods I was eating, including sugar consumption. Eating sugar not only caused me to gain weight, but also made me sick and sapped me of energy. One aspect of the approach that I developed to help myself – what I refer to as the Diet Alternative – is choosing a whole foods approach to eating. The goal of this approach is to help you transition to a healthier way of eating, learning ways to make small changes to your diet so that you not only lose weight, but you also improve your health.
Now it's your turn: How will you reduce your sugar intake?
To learn more about my approach, you can go to my website, www.Coach4HealthyLiving.com