Why You're Gaining Weight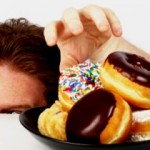 You make healthy food choices, get enough exercise, yet you still can't lose weight. Frustrated doesn't even begin to describe how you are feeling. So what gives?
If you have read my blogs or downloaded my eBook, you know my mantra:
There is more to your weight than just the food you eat.
Things like stress and your mood play a role in weight gain and the inability to lose weight, despite all your attempts at diet and exercise.
A forthcoming study of 787 people conducted by Cornell University found that people in a good mood are 77 percent likelier to eat healthy food than those feeling bad.
According to Brian Wansink, PhD, author of "Slim by Design: Mindless Eating Solutions for Everyday Life,  "When people are upset, they want immediate relief, which may include grabbing what's easiest and most comforting… However, people in good moods feel optimistic and tend to make choices that benefit their overall health."
So how can you change your mood so that you can make better choices for your health?
There are many ways that can improve your mood, including yoga, exercise and meditation
One way that I help people stress reduction is with Reiki.
Reiki sessions are ideal for stress reduction; a deep state of relaxation combined with a general feeling of well-being is usually the most noticeable effect of a treatment.
When your mind and body are relaxed, your mood naturally improves.
You can learn more about Reiki here.