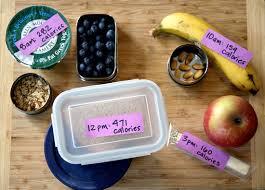 I just read a recent article on Boston.com entitled Dieters move past calories, food makers follow.
Calories are not the end-all and be-all when it comes to weight loss. A recent client of mine with had been on Weight Watchers and was using their "point-system" – Which assigned points to foods based on calories. She would count and control the total points of the food she ate each day. Essentially, she was trying to manage her calories and jumped on the low-calorie band wagon, thinking that would help her lose weight. For her, this meant she was eating a lot of prepared low-calorie foods -like Weight Watchers and Lean Cuisine meals, low calorie cookie snack packs, and a host of other "low-calorie" foods. Needless to say, she was left feeling hungry and deprived; and when she came to me, she was still struggling with her weight and felt like it was her fault.
According to the Boston.com article, part of the problem is that "Low-calorie" foods make people feel deprived. Now, people want to lose weight while still feeling satisfied. And they want to do it without foods they consider processed.
''People are recognizing that it's not enough to just go on a diet and lose weight. Nutrition comes more into play,'' said Margo Wootan, director of nutrition policy at the Center for Science in the Public Interest, a health advocacy group.
Perhaps most emblematic of calorie counts as a marketing gimmick are the 100-calorie snacks that flooded the market a decade ago. Some food companies are retreating from the strategy.
In the past four years, sales of 100-calorie snack packs of Oreos have plummeted 72 percent, according to IRI. Parent company Mondelez International Inc. also has pruned varieties from its 100-calorie lineup and now offers only four.
Mondelez spokesman Richard Buino said the company is focusing on healthy snacks that are about ''more than an arbitrary calorie amount.''
If you would like to learn more about a better approach to weight loss – one that doesn't focus on counting calories, but focuses on eating real, whole foods, please visit www.Coach4HealthyLiving.com and get your free eBook, "The Diet AlteRNative."
Janine Gilarde, RN has over 10 years of experience in holistic and traditional approaches to health and wellness. She is a Licensed Registered Nurse, Certified Health and Wellness Coach and a Certified Reiki Master Teacher trained in Buddho- Enersense, a complete system of healing. She is committed to helping others using a holistic approach for weight loss, stress reduction and overall well-being.