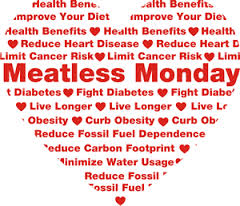 Meatless meals are built around vegetables, beans and grains — instead of meat, which tends to be more expensive. Meatless meals also offer health benefits.
If your diet is rich in fruits, vegetables, nuts, whole grains, and meat substitutes, you may be less likely to have certain risks for heart disease and other health problems, such as:
High cholesterol
High levels of triglycerides
High blood pressure
Overweight and obesity
Diabetes
On the other hand, the typical meat-based Standard American Diet (SAD) may increase the risk of heart disease, compared with diets high in fruits and vegetables. One study shows that a Western diet increases a woman's risk of getting heart disease by 46%.
Large-scale studies of the Mediterranean diet, which isn't entirely plant-based, has been linked to a lower risk for heart disease and stroke. The Mediterranean diet is higher in fruit and vegetable consumption than the typical American diet and allows small amounts of poultry, fish, eggs, and dairy products, but almost no red meat.
 Try meatless meals once or twice a week
If the thought of going meatless seems intimidating, try easing into meatless meals. Consider going meatless once or twice a week. Plan meals that are typically meatless, such as lasagna, vegetable or bean based soups, or pasta with roasted or sauteed vegetables.
If you're worried about where your protein will come from, don't be too concerned – most Americans eat too much protein in their diets. Generally, people think of meat, fish and eggs as the only sources of quality protein, when in fact, there are many plant-based protein options.
Quinoa – an amazingly rich source of protein, quinoa provides almost 11g of plant-based protein per 1 cup serving. Best part is, it's also gluten-free! Quinoa is a complete protein that works in place of rice or pasta in many dishes.
Lentils – full of fiber, magnesium and folate, lentils are amazing for protecting your heart. Plus they contain close to 18 grams of protein per 1 cup serving.  From lentil burgers, to soups and stews, there are many ways to get creative with lentils.
Chickpeas – Another great bean to use for soups or stews, chickpeas contain 15 grams of protein per 1 cup serving. They also contain a ton of heart healthy fiber, which is also beneficial for balancing blood sugar.
Tofu – A perfect addition to stir frys, or crumble to add to chili. 1 cup serving packs 20 grams of protein.
Coaching for Healthy Living – helping to transform people's lives through quality nutrition for health, weight loss and wellbeing. Visit Coach4HealthyLiving to get your free eBook, "The Diet AlteRNative."
Janine Gilarde, RN has over 10 years of experience in holistic and traditional approaches to health and wellness. She is a Licensed Registered Nurse, Certified Health and Wellness Coach and a Certified Reiki Master Teacher trained in Buddho- Enersense, a complete system of healing. She is committed to helping others using a holistic approach for weight loss, stress reduction and overall well-being.
Sources: Web MD