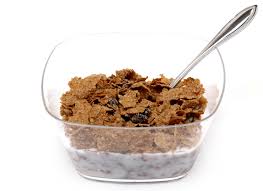 The other day I was consulting with a new client who has a health history of diabetes, high cholesterol, high blood pressure and she is overweight. A recent medical appointment resulted in an increase in her Glipizide, a medication for her diabetes. I wanted to know what recommendations the doctor had made so that I could help her stay on track. Unfortunately, when I posed this question to Mary*, she replied that the doctor did not make any recommendations.
Eeek!!! 
I guess I shouldn't have been that surprised, given the fact that medical doctor's don't spend a lot of time with patients nowadays, and most doctors don't usually talk about nutrition or exercise – except maybe to tell you to "Eat less and exercise more."
I figured it would be helpful to get an overview of Mary's diet, so we decided to look at what she ate for breakfast.
Mary's typical breakfast consists of Raisin Bran and a banana. I asked Mary exactly how much Raisin Bran she was eating, and she told me that she just "pour the cereal in a bowl." This is a big mistake…especially for someone  trying to lose weight. I recommend that if you are not familiar with what constitutes a serving, measure your food until you can 'eyeball' a serving; this will help you so that you don't accidentally super size your meals. I asked Mary to measure her bowl of cereal the next morning, and she informed me that she was eating 2 cups.
We then took a look at the nutrition label, and one serving of Raisin Bran contains 7 grams of fiber, 5 grams of protein, 46 grams of carbohydrates and a whopping 18 grams of sugar. 
Unfortunately, a serving of Raisin Bran is only 1 cup, which is rather small, so Mary was actually eating DOUBLE that amount. That's 92 grams of carbs and 36 grams of sugar!
Mary was so surprised because she thought she was making a healthy choice, especially because the front of the box of Raisin Bran stated that it was "An excellent source of fiber & made with whole grain."
A healthier option – Oatmeal. And if you're going to go with oatmeal, stay away from the instant, processed, sugar-laden versions.
A 1/4 cup of uncooked steel cut oats have 5 grams of fiber, 7 grams of protein and NO sugar. While they take longer to cook, it's certainly worth it for the lower glycemic index and fiber, all while avoiding all that processed garbage.
Steel cut oats will also leave you feeling fuller, longer, an added bonus so that you don't get the pre-lunch munchies!
And what about the banana Mary was including with her breakfast? Although I advise my clients to increase their fruit and vegetable intake, bananas are not the best choice for people with diabetes because they are higher on the glycemic index. A lower glycemic fruit, such as berries, would be an ideal choice.
Foods with low glycemic index rankings help to keep blood sugar balanced. This will help you lose weight and reduce your risk factors for certain chronic diseases (including Diabetes). If you are not familiar with the Glycemic Index, I will be covering that next week.  
The takeaway for Mary – don't be fooled by the claims on food labels, measure portions and always read the nutritional label on the side of the box. And remember, what might be okay for some, may not be the best choice for you!
*(Mary is not the clients' real name).
If you would like to know whether your food choices are the best for you, Coaching for Healthy Living makes house calls in the Boston and Metro-West area. Services are also available via phone and Skype. Contact Janine at Janine@Coach4HealthyLiving.com or (617) 612-5186 to learn more.
Coaching for Healthy Living – helping to transform people's lives through quality nutrition for health, weight loss and wellbeing. Visit Coach4HealthyLiving to get your free eBook, "The Diet AlteRNative."
Janine Gilarde, RN has over 10 years of experience in holistic and traditional approaches to health and wellness. She is a Licensed Registered Nurse, Certified Health and Wellness Coach and a Certified Reiki Master Teacher trained in Buddho- Enersense, a complete system of healing. She is committed to helping others using a holistic approach for weight loss, stress reduction and overall well-being.