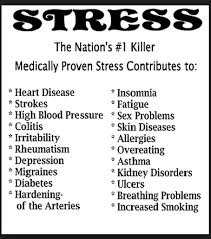 Stress Manifests in Different Ways. Does Any of This Sound Like You?
Are the "Little things" making you angry?
Eating too much?
Aches and pains? Recurring headaches, 

gastrointestinal distress

, neck or shoulder tightness?
Excess belly fat? A perpetual muffin top  that rolls over your jeans?
Feeling unhappy, moody and physically and emotionally drained?
Unable to either fall asleep or stay asleep?
Feeling not enough… as a mom… as a wife… at work?
Bottom Line: if you don't manage stress, it manages you, Stress can rob you of  sleep, a calm demeanor and a thin waist. So, what can you do about it? Below are three solutions to help you go from stressed out to blissed out.
Make time for relaxation.
It is important to take time to nurture yourself. Relaxation can lower your heart rate and blood pressure and increase blood flow to organs and muscles, allowing you to feel more in control of a situation.
Try at least one of these ideas this week:
Go for a walk. Spend time in nature. Get a Reiki treatment. Take a long bath. Get a manicure or pedicure. Take a yoga class. Meditate for 5 minutes. Relax with a good book.
Adopt a healthy lifestyle.
Get regular exercise to help release stress. Exercise will improve overall health and give you a sense of well being through the release of endorphins- boosting confidence and lowering stress levels. Regular exercise can also decrease the production of stress hormones.

Eat a healthy diet. Balanced, healthy meals will keep your energy up and your mind clear.
Reduce caffeine and sugar. Studies have found that the stimulating effects of caffeine can cause anxiety, trigger panic attacks, and increase feelings of nervousness and irritability. The temporary surge of energy often ends with a crash in mood and energy. By reducing the amount of coffee, chocolate, and sugary snacks in your diet, you'll feel more relaxed and you'll sleep better.
Get enough sleep. Losing just a few hours of sleep increases feelings of stress, sadness, anger and exhaustion. Sleep deprivation raises stress hormone levels on its own, even without a stressor present. 
Plan your time.
Write a to-do list and figure out what is most important.
Manage your commitments. This means being able to say "no" to things that aren't important to you and "yes" to things that are important.
Set deadlines. Set a deadline a few days before a task absolutely has to be done. This allows for the possibility that other things will get in the way, but also will allow for you still to get the task done.
Coaching for Healthy Living – helping to transform people's lives by focusing on the whole person for health, wellbeing and weight loss. Visit Coach4HealthyLiving.com to get your free eBook, "The Diet AlteRNative," and learn why diets don't work.
Janine Gilarde, RN has over 10 years of experience in holistic and traditional approaches to health and wellness. She is a Licensed Registered Nurse, Certified Health and Wellness Coach and a Certified Reiki Master Teacher trained in Buddho- Enersense, a complete system of healing. She is committed to helping others using a holistic approach for weight loss, stress reduction and overall well-being.