Holistic Healing with Reiki
Providing Reiki classes, Reiki training and Reiki & Health Coaching in the Boston area
Self-care and self-healing is a cornerstone of wellness
What is Reiki?
Reiki is a Japanese practice that is particularly helpful for stress reduction. It is often referred to as 'hands-on' therapy because a Reiki practitioner uses their hands to facilitate a subtle redirection of blocked energy. By adjusting and stimulating the flow of energy, Reiki stimulates the body's natural healing ability, which helps to put you in a place of ease and not dis-ease.
Reiki is holistic — it addresses the whole person, the physical, mental, emotional and spiritual aspects, which helps to support health, healing and wellness.
According to the National Center for Complementary and Integrative Health, the beneficial healing results of Reiki include:
A peaceful, deep state of relaxation
Stimulation of the body's immune system
Pain relief
Dissolving energy blockages and tension
Promoting restful sleep
Reiki as an integrative practice
According to the International Association of Reiki Professionals, studies and anecdotal evidence have shown that Reiki can be used to encourage healing. Studies have even explored the effect of Reiki on patients who are undergoing cancer treatment. These studies have found that Reiki may offer a number of  benefits to patients as they deal with the symptoms and stresses of cancer.
Reiki is now found in many integrative departments in Boston area hospitals, including Dana-Farber Cancer Institute. These services are essential in helping individuals heal naturally, and I am happy to be able to offer this in the community.
Offering Reiki Training, Reiki Sessions and Reiki and Health Coaching in the Greater Boston area. Please click on the tab of the program that interests you to learn more.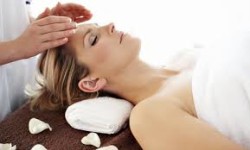 Dealing with the constant stress of today's hectic world?  Hit the reset button with a Reiki session and feel more refreshed and balanced.
Reiki can also help with acute and chronic conditions, including headaches, fibromyalgia, and adrenal fatigue. Reiki can also aid in the healing process pre- and post surgery.
For Cancer patients that want to continue their Reiki sessions once they are home, I am happy to discuss my home visit options to support you as you heal.
I am currently seeing clients at The Meraki Center, 431 Trapelo Road, Belmont, MA.
Monday, Tuesday and Friday evenings.
60 minutes – $70
75 minutes – $80
Looking to maintain your health and reduce healthcare costs? Try a *Wellness Plan.
Introductory Wellness Plan: Purchase 3 consecutive sessions and save $30.
One Month Plan: Purchase 4 sessions and your 5th is FREE.
*Terms and Conditions:
Introductory plan: Sessions must be completed within 2 months.
One month plan: All sessions must be completed 4 weeks after receiving the first session, then the 5th week is FREE.
Would you like more information? Let's discuss how we can work together. Please call Janine at 617-610-0734 or click here to use our convenient contact form.
Reiki Training Level I:
Anyone can learn Reiki! Reiki I is a prerequisite for Reiki II certification, which is needed for professional practice.
In this class you will:
Learn the history of Reiki
Learn meditation techniques to help you experience and work with Reiki energy
Receive a Level I attunement, allowing you to experience Reiki energy
Learn traditional hand positions so that you can give a Reiki treatment yourself and others
Learn how to use Reiki as a daily practice to release worry
Receive handouts and receive a Certification of Completion
Your investment for Reiki Level I training is $150.00. Would you like more information or would you like to start your training? Call Janine at 617-610-0734 or click here to use our convenient contact form.
Reiki Training Level II:
This class is open to all students who have completed Reiki level I training in any lineage. You will explore Reiki in greater depth and expand your understanding of Reiki as a healing modality.
In this class you will:
Access a deeper level of healing
Learn the Reiki symbols for sending healing (Distant Healing symbol), and harmonizing the emotional and mental body
Receive a Level II attunement
Receive handouts and a Certificate of Completion
Your investment for Reiki Level II training is $300.00. Have you completed Reiki I and either want more information or would like to continue your training? Call Janine at 617-610-0734 or click here to use our convenient contact form.
Reiki & Health and Wellness Coaching
This dynamic duo combines the healing of Reiki with the transformational tool of coaching. Reiki, used by itself, reduces stress, supports relaxation, and helps to balance your energy. Coaching is a collaborative partnership with you to create positive changes in your life.
Combining Reiki and coaching makes it easier for you to draw upon your inner knowing, making it easier to dissolve limiting beliefs and get unstuck.
60 minutes – $95
90 minutes – $140
All sessions are customized to meet your individual needs.
Schedule your session today!  Please call 617-610-0734 or click here to use our convenient contact form.